The Sapphire Staff: A weekend telling with Shonaleigh
Friday 21st September – Sunday 23rd September 2018
At the Old Rectory, Llanfachraeth, Ynys Môn LL65 4YA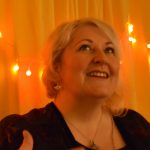 You are invited to a unique, immersive weekend of storytelling for adults from the world-renowned tradition bearer and storyteller Shonaleigh. This is not a formal retreat – but the chance to take part in a research project/archive recording where Shonaleigh shares a long-form extended story over the course of a weekend.

In the latest episode of Shonaleigh's acclaimed Gem cycle, an ancient warlord is looking for three objects that will give him possession of all the kingdoms of the world.
This is a rare chance to hear these ancient tales in the light and on the tongue, stories untold for two generations and barely spoken of for decades.
The story starts out at the beginning of time. It traces the path of the three gifts given to mankind after the Fall from Eden: a cloak made of serpent skin, a staff of sapphire that looks like wood, and a rather unusual book.
We follow the journeys these objects take, and find their stories merge with stories from the Tanakh (the Old Testament). We meet Moses, Abraham, Isaac, Judah, and Joseph. On the way the objects become lost, misappropriated, their use distorted and their true value almost forgotten.
Only two can thwart the warlord's quest: a young man whose Grandfather was cursed to be half-eagle, half-man and a young woman who holds the last secret of Eve's three beautiful daughters.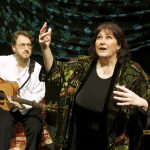 Shonaleigh is a Druts'yla, and carries on a living unbroken oral tradition passed down from grandmother to granddaughter by generations of Jewish women. Shonaleigh knows around 4,000 tales that she can recall on request, using the lost art of 'stories within stories'.
This telling of The Sapphire Staff will be recorded, as part of the Last Drut'syla Project, to create an archive of this tradition's stories.
This is an unmissable opportunity for anyone interested in stories or in oral and lost cultures to come and help document and archive this tradition through listening, requesting stories and asking questions. There will only be 20 places, so booking is essential.
The telling of The Sapphire Staff will start at 7.30pm on Friday evening (arrive from 6pm for a bite to eat first). Saturday's session will run approximately 10am – 9pm. Sunday will run approximately  10am – 2pm. It will take place within a relaxed atmosphere with plenty of cushions and sofas and cups of tea.
There is a charge of £30 to attend, to cover the cost of the room and basic lunches and dinners. You are also welcome to make a donation to Shonaleigh and Simon's travel and project expenses, and to bring cakes, biscuits and snacks to share (gluten and dairy free if possible).  To reserve your space, get in contact.

If you're coming from far away, there are a few very basic bunkbeds available in the house (£10 a night including breakfast) and the garden is open for camping (£5 a night including breakfast), please get in contact to discuss and book early.
These places to stay are are also pretty local and do B&B, contact them direct to book rooms: