Featuring the medicine of Forrest Yoga and Wild Plants, hosted by Claire Mace and Jules Cooper at Trigonos retreat centre, Nantlle, North Wales LL54 6BW
Thursday 5th – Sunday 8th January 2017
After the madness of Christmas and New Year's Eve, start 2017 by taking some time for yourself, to nourish body and spirit and set your course for the year ahead over this four day, three night retreat experience.
Make the space to listen to and refine your relationship to your spirit or soul. What do you need to let go of or change? What positive actions can you take in 2017 that will bring you into alignment with your highest goals?
Claire will lead you through daily Forrest Yoga classes and ceremonies.  Forrest Yoga has been created by pioneer of yoga and emotional healing Ana Forrest. It is a physical but internally focused practice that emphasises how to carry a transformative experience off the mat and into daily life and helps you to build strength and integrity in your body. The yoga taught will be 'all levels' classes, so options will be provided for both beginners and more experienced yogis looking to deepen their practice.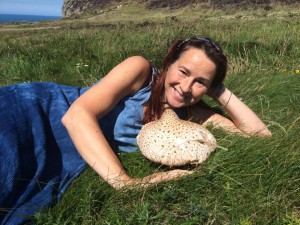 Jules will lead afternoon sessions which will help you connect to your wild nature through plants, working with the energy of the season stored in roots and dormant seeds.
Everything is optional: if what you really need to do for four days is to sleep, then you are welcome to do so.
The retreat will be held at Trigonos retreat centre, which provides a nurturing space with nourishing vegetarian food, much of it grown onsite, and comfortable, clean bedrooms.  The retreat starts at 7pm on the Thursday evening but you are welcome to arrive from 4pm.  The retreat ends after lunch on the Sunday.
Pricing options
Residential (3 nights in a twin room with shared bathroom, includes all meals from dinner on Thursday to lunch on Sunday) £310
Non-residential (includes lunches and dinners) £200
If you'd prefer your own room, you can have a single room for a supplement of £60 (ensuite) or £30 (non-ensuite).
Go to Booking to book online, or call 07970 409 724 to speak to Claire directly.